History
---
The History of Melwel Lodge
By Bob Kellum
Published in Nature and Outdoor Tourism
Winter 2020

"In the summer of 1945, a young entrepreneur visiting the Thessalon area of the Algoma District was about to take his search elsewhere, when he checked one last property. In the pouring rain, Weldon Moore stumbled out of the bush onto a pristine, west-facing bay on a beautiful clear lake..." Click to read full article.
---
Interview with Lolly Hunting
Summer 2018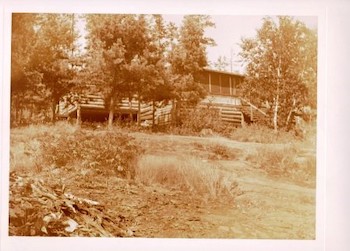 Lolly Hunting shares the history of Drewry's Island and Cross Point!
Click To Listen
---
Interview with Bryan McDougall
September 2016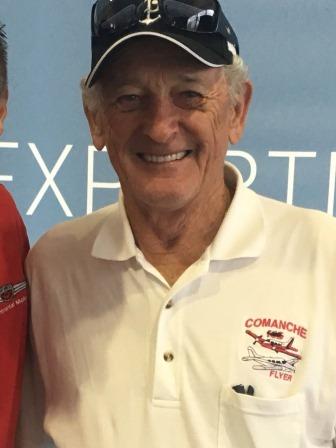 Bryan McDougall shares his life experiences from all corners of Big Basswood Lake!
Click To Listen
---
Interview with Don McCallum
July 2016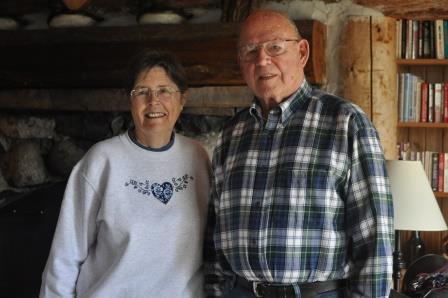 Bev and Don McCallum in their circa 1885 cottage.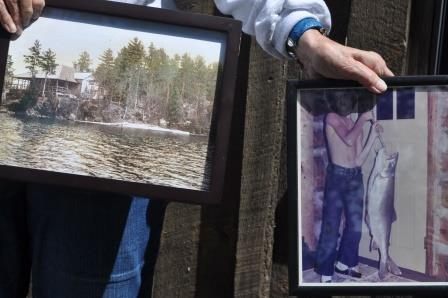 Pictures of the historic McCallum cottage and of Don's 30+ pound Lake Trout!
Click To Listen
---
Interview with Bob Town
July 2015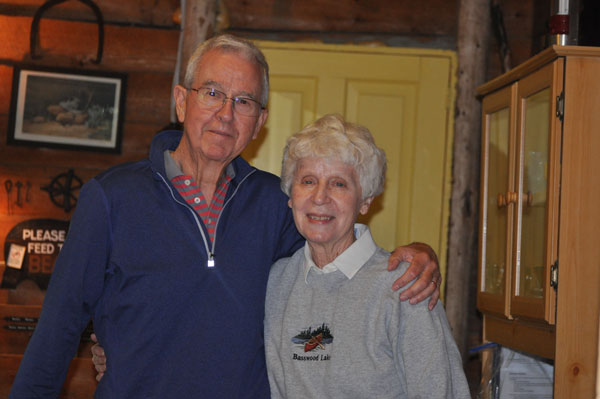 Bob & Marilyn Town in their circa 1921 cottage.
Click To Listen
---
Interview with Dick & Jane Brown
July 2015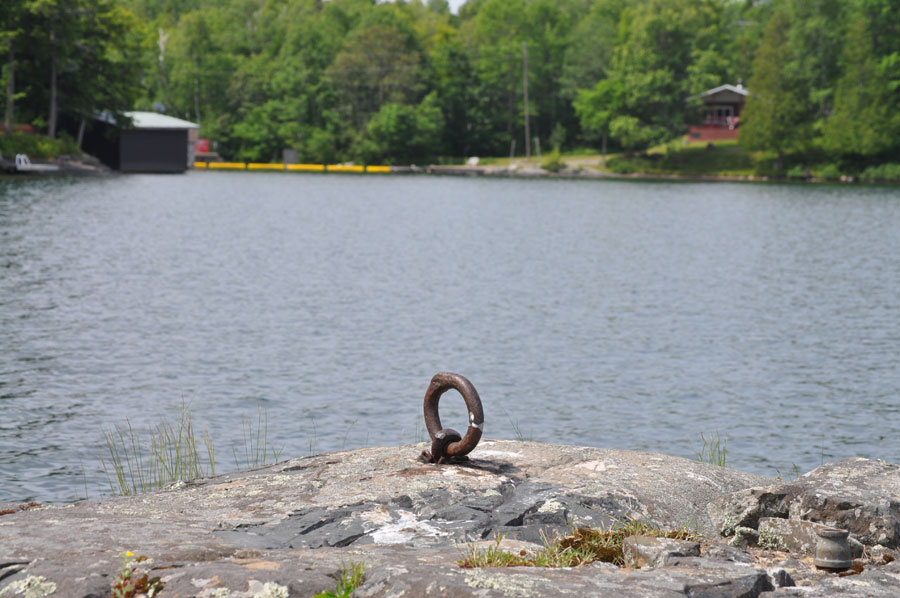 This is a picture of a ring/hook on the Brown's point that was used at the turn of the 1900's as part of a log boom. Basswood was logged and the logs were floated down the lake to Dobie Bay and Harris creek where they were "chuted" down the creek to the mill in Dayton. There are still sunken logs in Dobie Bay from that time period.
Click To Listen
---
Interview with Bob Hudson
August 2013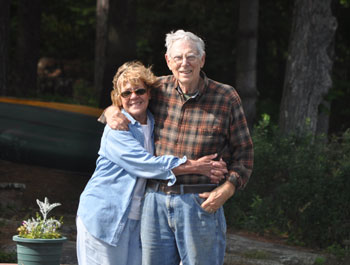 Jack Hodgson interviewed Bob Hudson in August 2013. Bob first came to Basswood at age 7 in 1939, staying at Bill Phillip's Camp. Bob & his wife are pictured below.
(Link currently unavailable)
---
A Little History of Big Basswood by Carl Brown Jr.
August 2012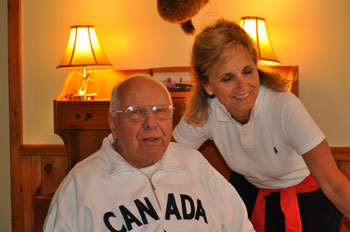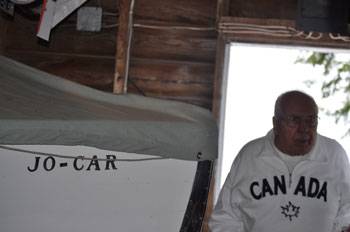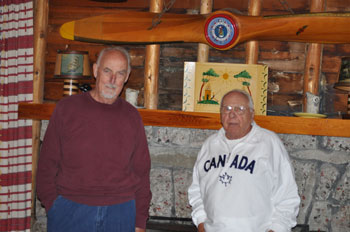 In August of 2012 new board member Jack Hodgson and Lolly Hunting paid a visit to Carl Brown Jr. and his daughter Lynn Shope. Carl, age 91 at the time, was born June 23, 1921. He remembers his first visit to Basswood as a small child, staying at Indian Point Lodge, on the Southeast shore, near Portage St. Carl passed away on December 11, 2017.
(Link currently unavailable)
---
Interview with Margaret Swain
Summer 2011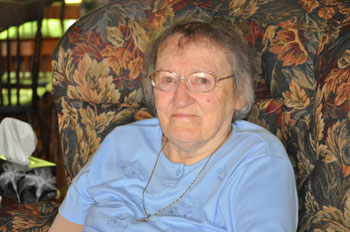 This is an interview with long-time Basswood area resident Margaret Swain discussing her experiences around the lake. The interview was completed in the summer of 2011 by Lolly Hunting. Margaret passed away on April 15, 2014.
(Link currently unavailable)
Bill Phillips Camp Brochure
Old Bill Phillips Camp Brochure Pages
(
Click to view full size
)
---
Basswood Soundings - Initial Sketch
Prepared and Submitted By: Ken McLarty
Big Basswood Lake, (Wakwekobi), is a significant feature of the North Shore of Lake Huron area of the Canadian Shield. Clear waters boast an impressive depth visibility. (Secchi disc readings have exceeded ten metres). Its surface level, 691 feet above mean sea level, is about 100 feet or 30 metres above that of Bright Lake to the south. Bright Lake's surface, in turn, is about 15 feet or 4+ metres above that of Lake Huron, still further to the south. The former drop occurs in less than 1 kilometre - the latter over a distance in excess of 20 kilometres.
With an abundant fish population in earlier days, and surrounding forest cover, Basswood and it and its surroundings undoubtedly contributed to an early harvest of fish, fur, and wood resources for native peoples and early visitors. Native peoples in transit along Lake Huron's North Shore are said to have crossed country from the 'big lake' to Wakwekobi to acquire basswood trees - a favourite for the gunwales of their canoes.
Wood resources from abundant timber stands accounted for the locating of sawmills driven by direct water-power from the creek at Day Mills.(Harris Creek.) Such on-site power was one of the key factors in determining settlement sites in early Ontario. Along with the sawmills, the site boasted a grist mill, a furniture factory,and a box factory in their own times. Settlers moved in at the same time as the lumbermen; others followed in later years. Their crops of grain accounted for the need for grist mills.
Basswood's waters, derived primarily from lake-bottom springs, served for the transit of log booms across the lake from the area to the north of the lake, to Dobie Bay at the head of the creek, to feed the mills. Land trips from the south shore were linked by rowboat across the lake to the trail from the site of 'the Dunn farm' to the Goldenburg settlement further north. Day Mills townsite was laid out east and west of the creek - Portage Street still exits Highway 17 east of the creek. A field on Church Street was host-site for an annual picnic for the people of the surrounding area. Nearby Indian Point Lodge was one of the early 'lodge and cabin' facilities drawing 'tourists' to Basswood. Directly across the lake on the north shore was the Hunt Club, (Clubhouse). Dehler's Campground at the southwest end of the lake reminds old time visitors of the location of the former Alpha Goma Club. Popular commercial tourist operations included, (from around the time of World War II), Bill Phillips' Lodge at the northwest end of the lake, Melwel Lodge (at the lake's east end), and Indiana Bay, (now Basswood Camp), on the south shore, with access by road from Sowerby.
As roads and cars improved, cars became more universally owned by individuals, and disposable income increased with increasing salaries and wages. Annual vacations were negotiated into industrial and other contracts, and vacationing visitors from an increasingly wide social spectrum came from the urban south in Ontario and Michigan, and from further afield, as well as from urban centres in Northern Ontario. Demand for shore properties increased, and summer cottages sprang up to mark the presence of the new 'tourists'.
Pristine waters, surrounding forests and outstanding rock formations create an appealing landscape attractive to cottagers and other vacationing visitors.
Ken
passed away
on October 15, 2017.
_______________
Lake level data: National Topographic System, Map 41J, Blind River, edition